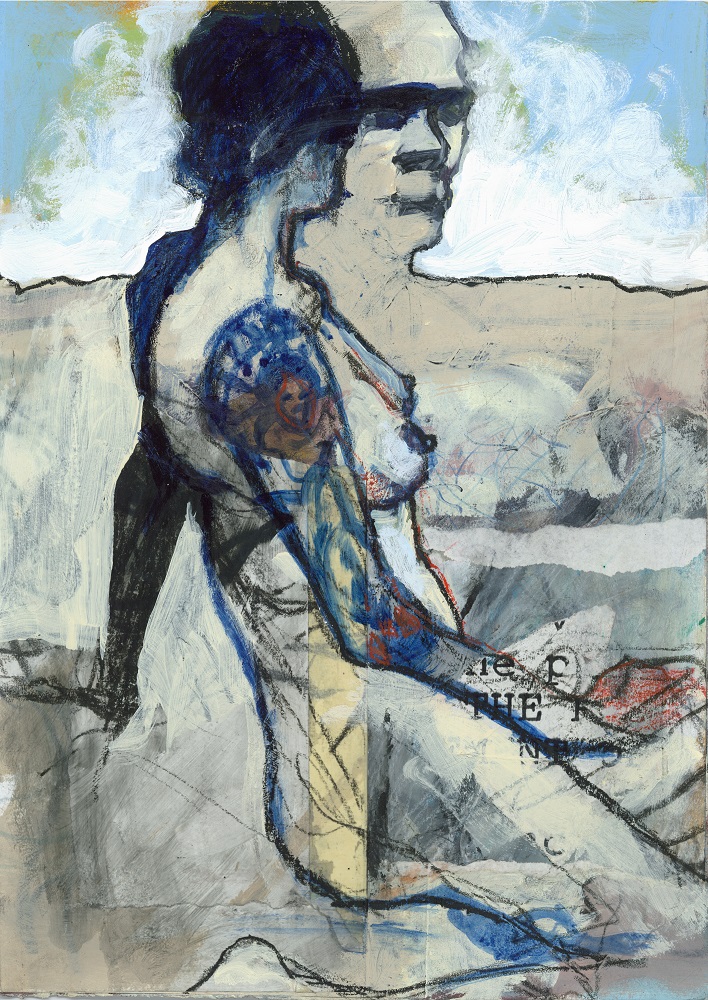 These primarily figurative mixed media works on paper typically begin at a figure drawing session. I received a vast collection of vintage folders from the Albuquerque Public School Library System years ago and they are my favorite surface/size to work on. These folders are 12" x 17" and many of them have the handmade plastic tab stapled on the side describing contents such as "weather."
I draw a figure in marker, china marker, or paint. These may be 1, 2, 5, 10, or 20 minute poses. Some of them feel complete in that time period and I stop there without adding more mixed media elements or text. But for most of these drawings, I return to the studio and what I don't like, I paint over, add my favorite texture of masking tape, gesso over, collage over, or any combination of the above. I may even cut them up into smaller pieces. I return to figure drawing and draw my heavy handed intense line again. Then back to the studio to cut, tear, glue, paint. And back and forth and back and forth reworking and reworking until I get something that speaks to me. Then I develop them further; I am not connected to the outcome- I allow the story to arrive. By working spontaneously and staying with each step of the process, the piece creates itself and tells the story that needs to be told.
I don't throw anything out. Everything is a background for something else. I work on a multitude of drawings at once in sizes varying from 5" x 7" to 36" x 54." This collection represents my favorites, many of which are sold but please check out my online etsy store to see what is currently available.